When Monica Shirk gave a message in her church in Moorefield, W. VA. on "Surviving the Storm," little did she know her family would be facing the biggest storm of their lives in a few short weeks. When the worship song, "Eye of the Storm," (Ryan Stevenson) was sung, it resonated with eight-year-old Joshua. The next day, he asked for it to be played several times, embedding it in his spirit. It would become a quieting and healing salve to his soul in coming days.
A few weeks later on May 17, 2020, Gary and Monica Shirk decided to go kayaking with their son and daughter on the South Branch of the Potomac River in West Virginia. Gary's brother, Benjamin Shirk, and Gary's Aunt Lisa came along. All with experience and a love of the sport, each one had their own kayak, including young Joshua. As five kayaks set out on the river that afternoon, they had no idea of the tragic event about to unfold and force them into the fiercest storm of their lives.
Six-year-old Abigail was tucked in front of her uncle Ben; everyone else was in their own kayak. According to regulations, and keenly aware of safety precautions, the Shirks made sure the children's life jackets were secure. Then they tethered Joshua's child-sized kayak to his father's as instructed to keep it from getting too far ahead.
The day was beautiful, and they planned to have a wonderful time as they pushed onto the river. Passing a couple of men fishing from their boat, they waved. They noticed a few campers as they passed the Circle C Campground.
Downriver, a large tree loomed on the bank with massive roots running into the river. Benjamin, who had Abigail in his kayak, managed to stay upright and move downriver. However, the strong undercurrent grabbed the other kayaks, sucking them into the grasp of the woody, gnarled arms of the tree, capsizing them.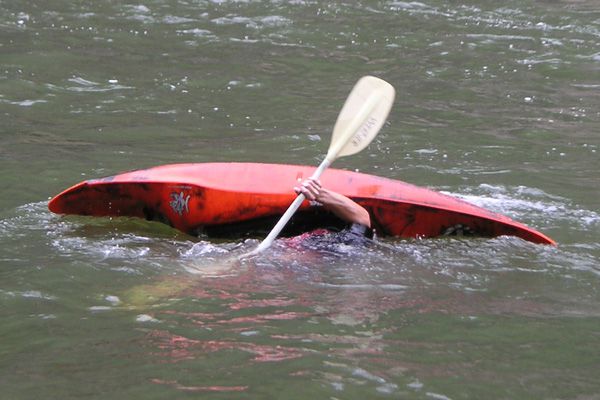 Joshua's kayak, which was tethered to his father's, caught on the roots sending Joshua's and Gary's kayaks in the opposite direction, flipping both of them from their rigs. His lifejacket, so meticulously strapped to his chest and legs, became entangled in the underwater roots.
Monica and Lisa following behind also flipped, with Monica smashing her head on the roots. They all surfaced as they were swept downstream. But where was Joshua? He was not to be found. They reasoned he had to be close to the capsized kayak and the massive tree. The terrible realization was that he was still trapped by the tree under the dirty river water.
When the campers from Circle C heard the screams, they came running. Benjamin had managed to get Abigail safely ashore. The wife stayed with Abigail; her husband called 911.
Derek Alt and Nathan Kesner, director and assistant director of Hardy County Emergency Ambulance Authority "just happened" to change their fishing day from Saturday to Sunday at the last minute due to other circumstances. It was a good thing they did. About twenty minutes after the kayakers passed these two fishermen, they received an emergency call on their radios. Someone was in dire trouble downriver. They paddled ashore and drove to the site. Four other emergency teams also responded.
Benjamin ran back upriver to rescue Joshua. Jumping in the water, the river was too swift for him to stand. Holding on to limbs and roots for balance, they would only break sweeping him downriver again and again. Frantic, he ran farther upriver so the current would sweep him close to the tree, only to have roots break and be taken downriver all over again. This happened four times and he was getting tired. It seemed the clock stopped as an eternity passed, even though it had been only five to ten minutes. But that's too long for someone to be trapped underwater. Becoming exhausted, he had to try again, and on the fifth time, Benjamin could only describe it as "a calm." The current quieted enough for him to walk out and stand in the water and release Joshua's life jacket from the tangles of his underwater grave. The boy's heart was not beating. He lifted the limp body onto one of the large roots.
By this time, the two fishermen/ paramedics were at the scene. One of the men began chest compressions but could not get the boy to breathe. A rescue boat was called, but because of the strong current and the roots, it could not get to them. The paramedics had to take Joshua into the river again and load him into the boat where he was taken to a waiting ambulance and then rushed to a hospital in Petersburg.
Mom and Dad watched in horror from the other side of the bank where they had gotten out of the river, not aware of the terrible condition of their son. Monica's Aunt Tonya was called to meet Joshua at the hospital as Monica and Gary were transported to the hospital by ambulance a few minutes later.
Life resuscitating actions were performed on Joshua all the way to the hospital in Moorefield where their medical team there continued for forty more minutes to coax life back into the boy's limp body. All without success. Everything seemed hopeless. Resigning himself to the hard facts, the doctor went to the waiting room to tell Monica's aunt the news.
"There is no pulse, no heartbeat. No life. Joshua is gone," was his message to her. She only had one response. "We serve a great and mighty God. He is our ultimate Healer."
At that very moment, a nurse from the other room yelled out, "Doctor! Stat! We have a pulse!" Joshua started to breathe on his own and his pupils responded to light.
Close to fifty minutes had passed since Joshua had taken his last breath before going underwater. Once his heart began to beat again, a medevac was called to transport him to a larger hospital in Morgantown, W. VA. over one hundred miles away. Due to storms, it could not make the trip, so an ambulance met the medevac at Mt. Storm.
However, by the time Joshua reached Ruby Hospital in Morgantown, his brain had begun to swell due to lack of oxygen. The normal time for swelling to reach its peak is three days. Joshua's swelling lasted for six days threatening to push into his brain stem which would be fatal. The doctors said the child was not a candidate for surgery, so all the family and medical team could do was to watch and wait – and pray.
I knew my God was more powerful than their words.

Monica Shirk
Doctors were worried, but Monica and Gary continued to hold on to faith. They knew God could answer and heal. "I did not allow any negative talk in front of Joshua," she said. "I didn't like what they told me – that Joshua was severely brain-damaged and could only hope for a vegetative state the rest of his life. I knew my God was more powerful than their words." The family continued to believe and hope in God. God would have the final say.
Joshua began to respond – squeezing fingers, pushing his legs. He couldn't talk yet due to biting his tongue during the accident. Instead, he communicates by blinking. Once for no, twice for yes. His mother reports that one day he seemed irritated with one of the doctors. When the doctor asked if he wanted to be left alone, Joshua blinked twice. The doctor left with a smile and Joshua kicked his legs in excitement. Monica notes that whenever Joshua becomes agitated, the one thing that always calms him down is the song, "Eye of the Storm." Only a couple of weeks before, no hope was given of recovery. Now there was positive proof of normal brain activity and personality was showing through.
One month later, Joshua was released from Ruby Hospital – from death to life. Much work and rehabilitation is needed to continue progress, build muscles, and learn life all over again at an inpatient rehab center in Morgantown. But this young boy is a fighter. He's learning to swallow again. He is sitting up, learning to walk again with the help of aides, and trying to form words.
Joshua was in the PICU (pediatric intensive care unit) for thirty days. "The doctors said they had never seen anyone bounce back so quickly," said Monica. "He truly is a miracle and proof we serve a mighty God. One doctor said himself that they use their knowledge…and give it the best shot they can, but ultimately, it is always up to God."
Week five: Joshua decides to roll over on his own.
Week six: Joshua spoke his first word – (he wanted more lollipop) and even more in speech therapy! The family is ecstatic. Monica states on the Facebook page, "The physical therapists were impressed with the progress Joshua has made in head control. He was able to support himself enough to use the potty chair for the first time. That made him extremely happy!"
The family continues to believe and hope through their strong faith in God. "I could not have handled this without God," Monica admits. "Joshua's story has spread far and wide and is a testament to God's strength. My son was trapped underwater for ten minutes, yet he never got pneumonia or any infections. My son was dead for forty minutes. God is capable of anything," she said. "You never know what's going to happen when God shows up. Please continue to keep the prayers coming. Let us not grow weary, but keep the faith!"
"My son was trapped underwater for ten minutes, yet he never got pneumonia or any infections. My son was dead for forty minutes.

God is capable of anything."

Monica Shirk
The Shirks update a special Facebook page devoted to Joshua's journey. As of the first on July, it has over 19,500 followers from across the world praying for his recovery.
Facebook page "He's Fighting, We're Believing"
Listen to "Eye of the Storm" by Ryan Stevenson and be encouraged!
"In the eye of the storm….You remain in control…
Your love surrounds me, in the eye of the storm."
Permission to share from Monica Shirk. 6/28/2020 | Facebook page
Sources: newstribune.info; funender.com; whsv.com and Monica Shirk