The NICU nurses brought the tiny infant to his mother so she could say her final goodbyes. But when she laid her hand over him, something incredible happened.
Photo of a fetus in the womb at 20 weeks gestation
Beth Hutchinson was scheduled to have uterine surgery on February 13th, 2020. Ten days prior, she was elated to find she was pregnant and canceled the surgery. She and her husband, Rick, were elated as she didn't think it was possible to have children.
Almost five months into the pregnancy, she called the doctor because she wasn't feeling well. The doctor discovered she was already dilated three centimeters. Beth was admitted into the hospital and going into labor, fearful for the baby. They were informed if she gave birth, they would not do anything to ensure the baby's survival.
Age of Viability
Twenty-one weeks is not considered viable in most states. In Minnesota, the age of viability – or the ability to live outside the womb – is cut off at 22 weeks of gestation. (Many states it's 24 weeks). These 24-25 week micro-preemies have only a 26% – 44% chance of survival, a study done in 2007 said.
Babies born earlier than 24 weeks (6 months) are at risk for a number of long-term effects of prematurity.
Dr. Stacy Kern, neonatologist of Children's in Minnesota and Beth's doctor, stated that many NICUs around the world will not resuscitate babies born at 22 weeks or younger.
At 21 weeks, the baby is the size and weight of a carrot, less than a pound and shorter than a ruler. They prove too small to provide care for with underdeveloped organs and air sacs for lungs. The baby has problems breathing on his own plus many other problems with a reported survival rate of less than 0%.
But many of these perfectly-formed little ones are proving these statistics wrong.
Born Too Early
Little baby Richard had different ideas that day. He was born June 5, 2020 at 21 weeks, 2 days old and weighed less than a pound. At half the gestation period, baby Richard fit into the palm of the father's hand. Both pro-life believers, Rick and Beth knew their son had a chance at life. Saving his life was not an option. The Hutchinson's asked the doctor to try, even though their baby was one of the smallest micro-preemies born.
"It's incredibly rare for a baby at 21 weeks, 2 days, to be resuscitated, let alone survive," said Dr. Kern. She noted that he is one of the youngest babies she has ever cared for.
Instead of fully developed lungs, the baby had only air sacs. He needed help breathing, so he was hooked up to two ventilators.
"There's not a lot of research out there for how to care for a 21-weeker," said Dr. Kern. She noted that he is one of the youngest babies she has ever cared for. (EYEWITNESS NEWS-KSTP.COM)
When he still wasn't getting enough oxygen to his brain, Dr. Kern brought him to his mom and dad one final time. At that point, many micro-preemies will spend their final moments before breathing their last breath on their mother's chest.
Something Incredible Happened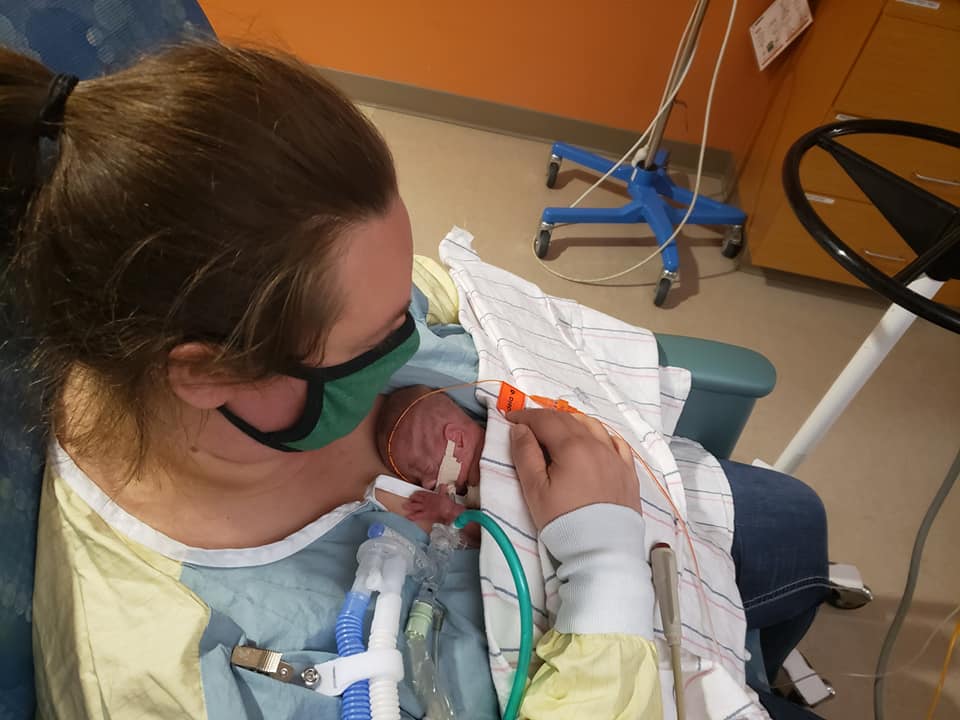 When they laid the little guy on his mother's chest, things began to turn. As Beth laid her hand on her son, baby Richard's oxygen levels began to rise – 80 and then 90%.
"It was one of the most incredible things I've ever seen. He just continued to surprise us day after day," said Dr. Kern.
The Hutchinson's thank everyone at Children's in Minnesota that he was given the chance to live, and thank God that he is making major strides every day. A healthy 6-month-old Richard went home December 4, 2020. Now at ten months, he continues to use oxygen, has a inhaler and relies on a feeding tube, although he is learning to use a bottle. His lung doctor has been working with Beth to help Richard wean off his oxygen and he's doing great.
"Richard surprised everyone at Children's Minnesota. He's taught us all how resilient tiny babies like him can be," admitted Dr. Kern. "To me, he is a miracle," Sometimes I look at him still and I think, how did you make it?"
If you want to follow Baby Richard's progress, Elizabeth has a Facebook page at https://www.facebook.com/groups/baby.richard.
Another Miracle 21-Weeker
Another miracle baby born two days earlier than Richard is little Jemarius, born in Georgia on December 29, 2019.
Born at only 21 weeks, 0 days at 12:12 o'clock, Jemarius became the YOUNGEST surviving preemie in the world to date. He weighed 13 ounces and was approximately ten inches long.
His mother, Jessica, had already lost two babies at 22 weeks and said the doctors didn't want to give this baby a chance either — simply because he wasn't at the 23-week viability threshold. Two more weeks, and they would give him all the care he needed. Both mother and father begged the doctor to try to save little Jemarius even though he had been given zero chance of survival.
Knowing other micro-preemies have survived, the doctor was hopeful. Technology was on their side, and they gave the baby the care he needed.
After five months in the NICU, he went home weighing a whole eight pounds! Jemarius is now a healthy, happy one-year-old.
"That's my miracle baby," said his mother, Jessica.
As a recent study found, up to 71 percent of preemies can survive if they are given active care, as opposed to just palliative care.
Every baby is precious in God's sight – the Gift of Life itself!